By Gabey Goh, StarBytz – 
Source
The mobile-payment niche is about to heat up with the entry of a brand new solution that's 100% a Malaysian effort.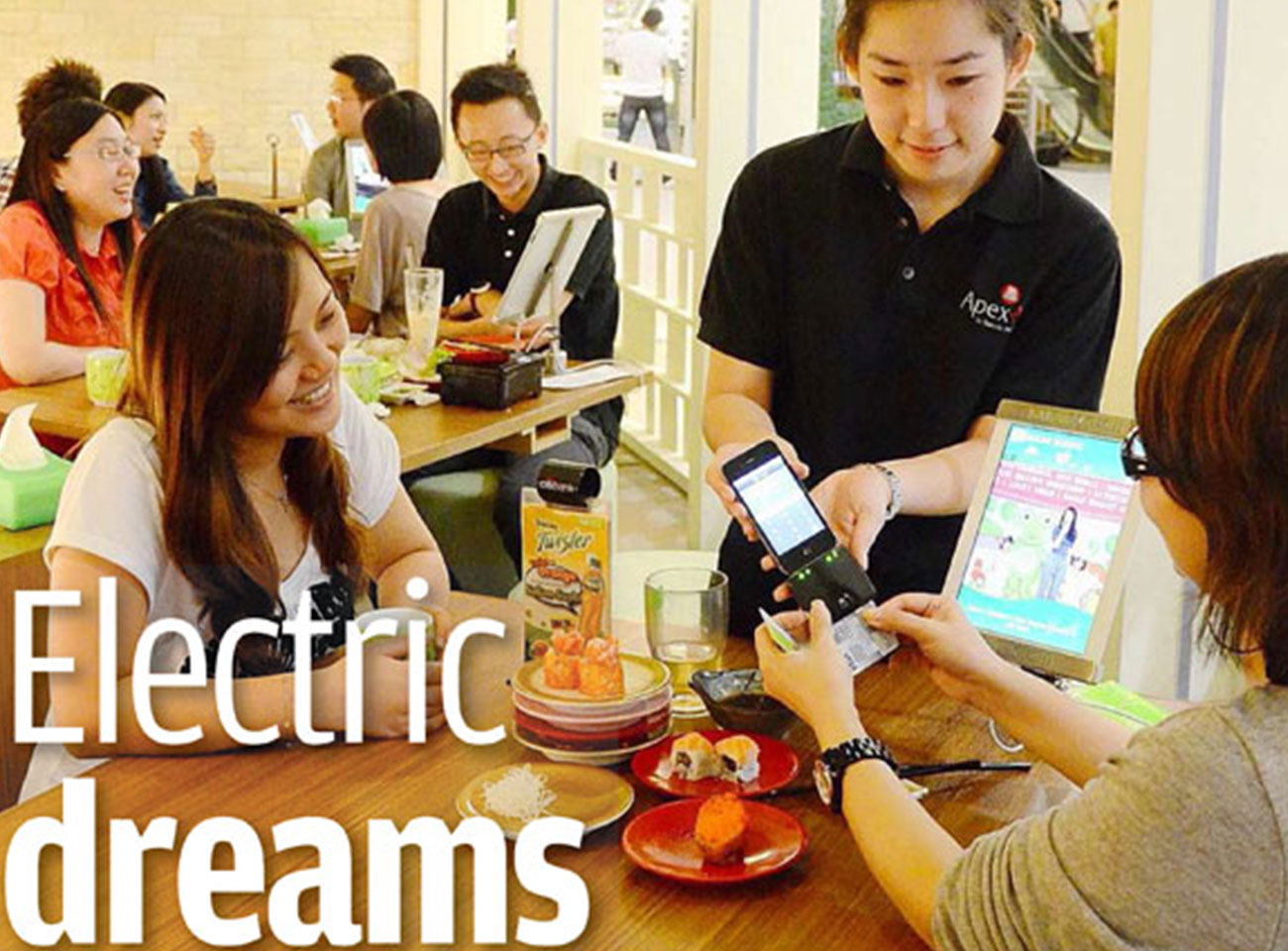 If you walked into the offices of Soft Space recently, you could be forgiven for thinking that you may have gotten the address wrong.
The almost-three month-old company had only moved into its new premises just a couple of weeks ago, and the smell of fresh paint still lingered.
"We're even waiting for our company signboard to arrive," said Soft Space founder and chief technology officer Chang Chew Soon. "It should be here soon."
Much like its office space, the work that this Malaysian startup has been doing remains unnamed. But that will soon change.
Chang and his team have been quietly and quickly working on a proprietary mobile payment solution, which it hopes to launch in July.
Mobile payment systems are generally split into two categories: Payment systems that utilise a mobile network to initiate or authorise a transaction, and contactless systems that use a mobile phone in lieu of a credit card.
Soft Space's solution falls under the first category, with the most well-known system to date being Square in the United States, founded by Jack Dorsey of Twitter fame.
While these services haven't hit mainstream consciousness, the space is gaining a lot of attention and is poised to redefine the way business is done.
Space to grow
The Soft Space vision is simple enough. "We want to tell the world, that anybody can sign up and accept payments in a secure manner," said Chang, a software engineer by training.
He envisions a scenario where the solution could be used between friends, where if short on cash, one could electronically transfer money owed for a dinner, on the spot.
The idea came during the team's first project designing an iPad- based ordering system for Apex-Pal International's restaurant chain, Sakae Sushi.
With the system, ordering was a seamless experience, but when it came time for payment, there was a disconnect. The wait at the counter was often long. "That got us thinking about what we could come up with to circumvent that," said Chang.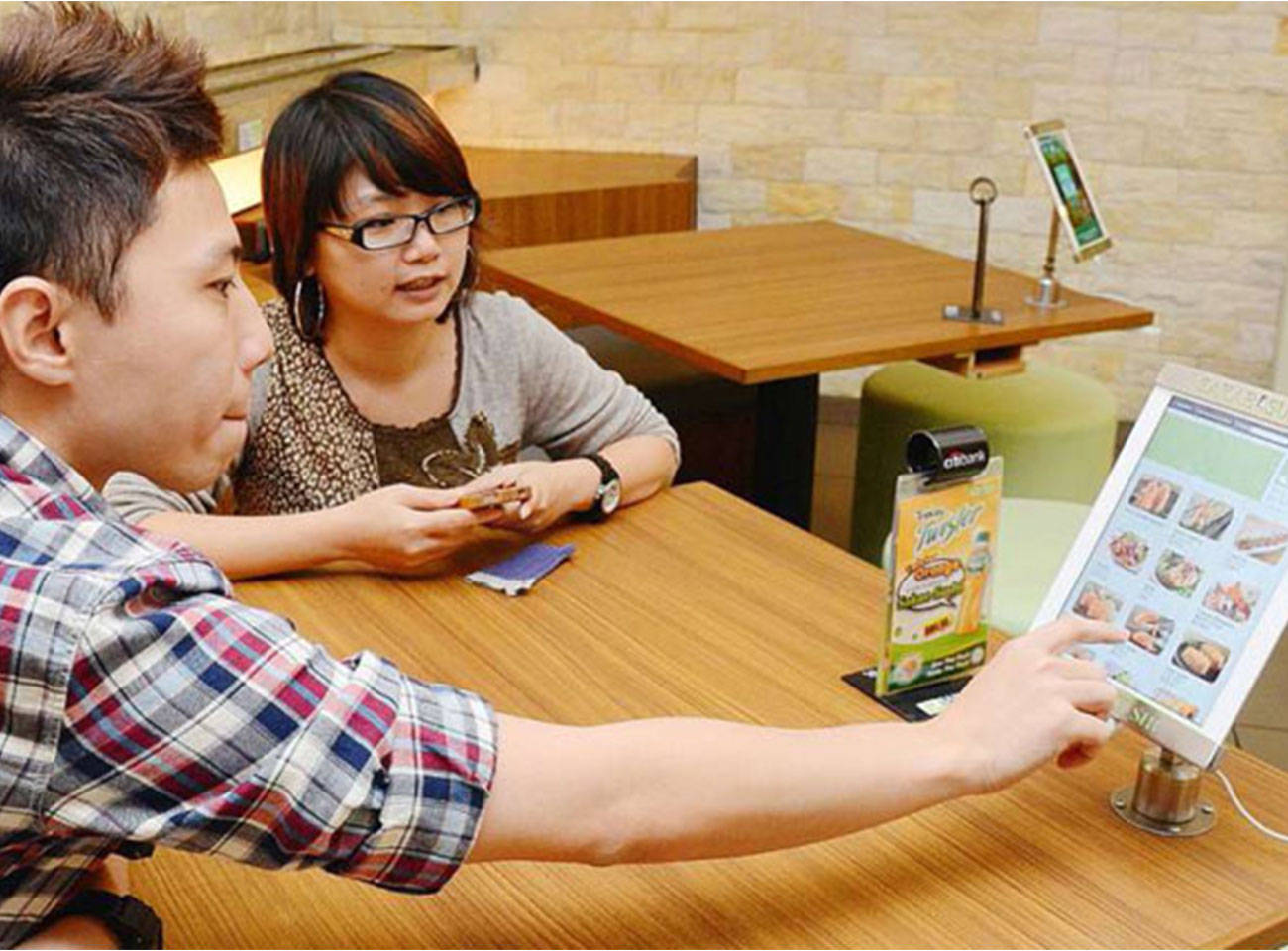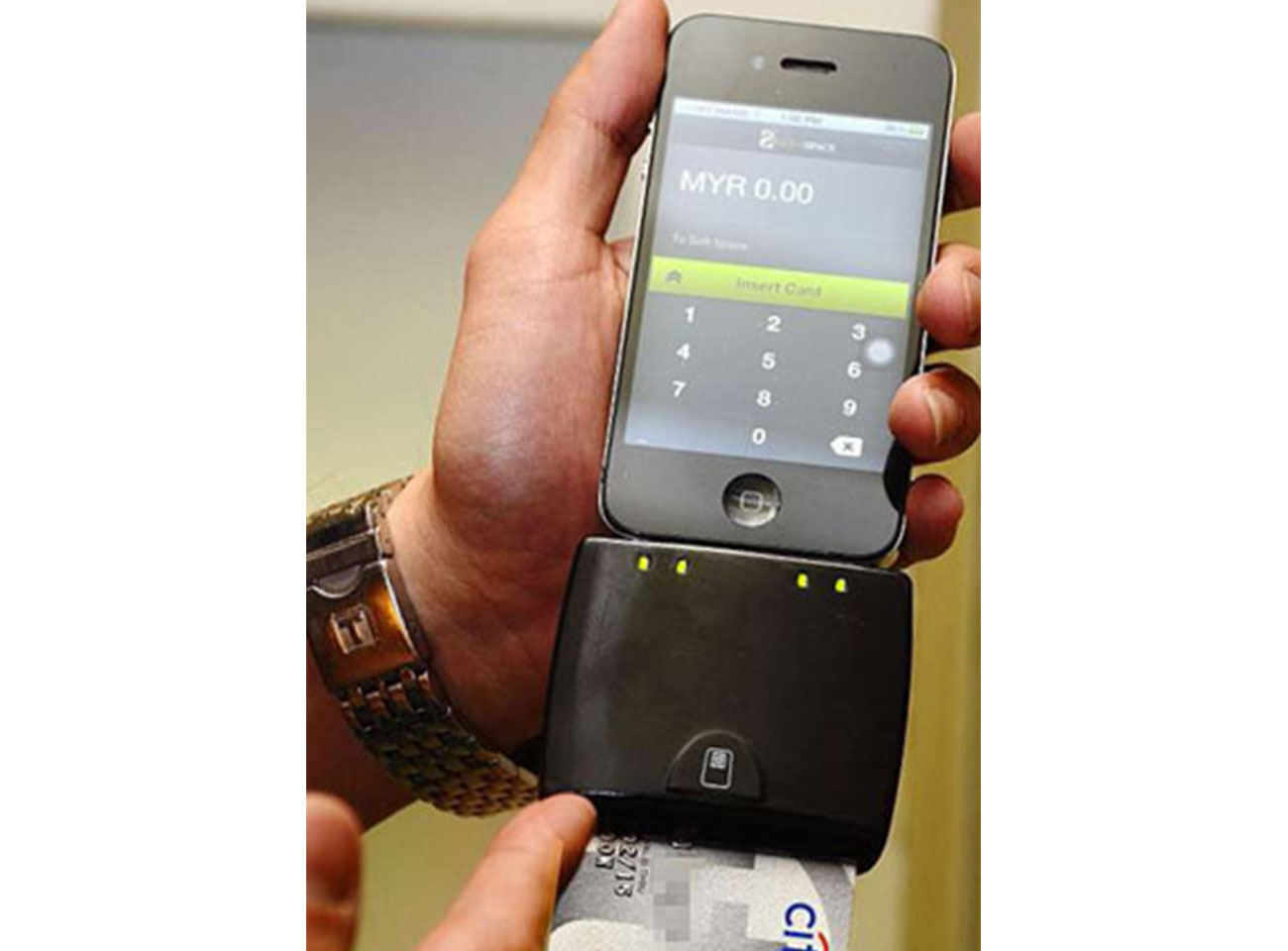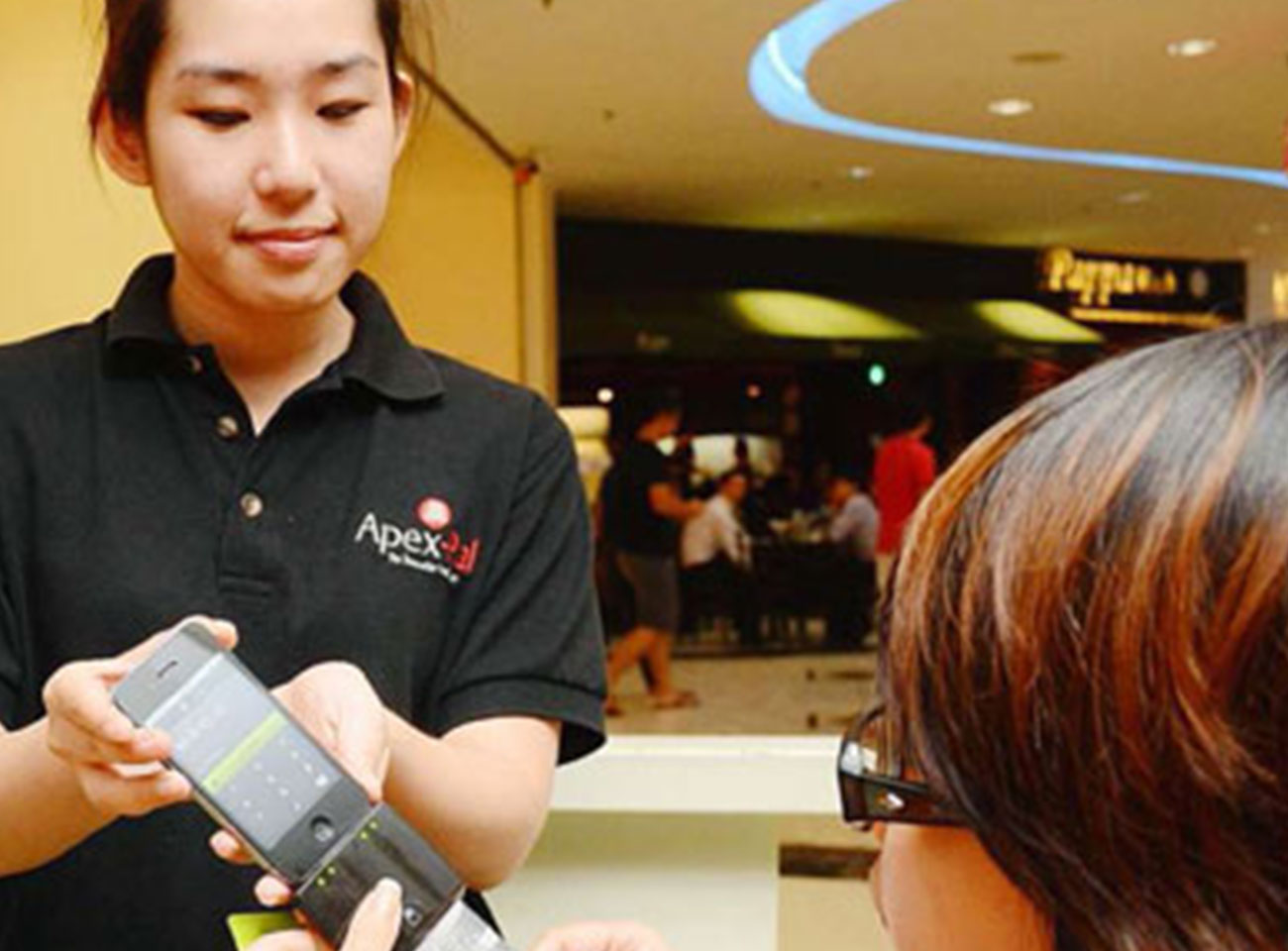 After making the decision to venture into mobile payments, he hopped on a plane to Taiwan, to source a manufacturer that could supply a chip-card reader that was EMV compliant.
EMV stands for Europay, Master-Card and Visa, a global standard for interoperation of integrated circuit cards for authenticating credit and debit card transactions.
Therein lies the main differentiator between Soft Space and Square – Square uses magnetic-strip card readers, instead of chip-based ones.
In 2005, Malaysia was the first in the Asia Pacific region to successfully migrate from the magnetic-strip environment, to the EMV chip-based credit card infrastructure to address counterfeiting.
Pieces of the puzzle
In Taiwan, Chang discovered US- owned manufacturer and supplier ID Tech, whose chip-card reader met all the requirements.
"What's great about their reader is that it is EMV Level-One-certified, which means the credit card associations recognize the hardware and if fraud occurs, they will back it, so liability does not lie with the merchant or payment processor," he explained.
The reader also uses "landing contacts" to read chips, where the eight-pin connector would not come in contact until the card is fully inserted and is certified up to at least 100,000 cycles.
ID Tech's director of sales for Asia Pacific, Alex Lin noted that its patented landing contact solution is not a unique technology, but does involve a higher manufacturing cost.
Not many manufacturers currently offer hardware that is EMV Level-One-certified, especially in the mobile card reader category.
"It is not easy to get; we spent four months undergoing the entire certification process," said Lin.
With a supplier chosen, the Soft Space team went back to developing its solution, which Chang admits is not as easy as getting a system to successfully read the card.
As financial transactions are involved, security and compliance are key concerns. "It's an ongoing process, the team is working day and night, finding ways to safeguard the system by putting on their 'hacker hats' trying to break it and then fix it," he said.
One achievement the team is particularly proud of is the fact that they are the first in the market to successfully read the MyKad using an Apple-based system.
A problem solved by Soft Space's head of software development for mobile, Toh Yit Ming, whose prior stint at technology solutions firm eBworx saw him play a part in developing mobile banking solutions for clients.
When asked how long it took to develop the point-of-sales app, Toh said the process took about a week, with the MyKad issue taking a few days to crack.
Quite a feat for a company that was only incorporated in February.
Not alone
There's good reason why the Soft Space team is moving this fast – they know they are not alone.
Mobile payment platform Swiff, developed by Singapore-based SCCP Payment Services (SCCP), launched last month in Singapore and here. While PayPal plans to launch its own service, known as Paypal Here, in Singapore later this year.
According to Bank Negara, use of electronic payments over the last decade has increased at an average annual rate of 36.4%, making it an increasingly attractive business opportunity.
Jerome Cle, CEO of SCCP was quoted in news reports stating that mobile payments in Asia Pacific are projected to rise to US$267.8bil (RM803bil) by 2016.
According to John Cheah, market analyst for Telecom & Mobile Research, IDC Asia Pacific, mobile payments are a much-needed addition in order to spur growth for the ever-growing SME (small and medium enterprise) environment.
However, unlike Cle, he was reluctant to make a forecast. "There are a lot of variables to consider. And with no substantial figures yet, it demonstrates how new the industry is. It's anybody's guess at this point," he explained.
Cheah noted that Soft Space's hardware and service bridges a gap by expanding the different methods of mobile payments.
But the solution is currently limited to Apple devices only, restricting accessibility by other operating systems, such as Google's Android which accounted for more than 50% of mobile shipments to Malaysia last year.
Chang said his team focused on Apple first, and not Android-based devices, purely due to one factor – consistency in hardware design. Despite that, things look good, because responses to Chang's demonstrations have usually ended with "Are you ready and where do we sign up?"
Sakae Sushi tops that list but Chang also displayed several letters of intent from a variety of companies. The mix included a hotel, a car workshop, a motorcycle spare parts distributor, and an insurance company.
"The insurance company was especially interested, they told me 'you don't realize how powerful it would be to enable our agents to accept payments for policies on- site," said Chang.
Future-proof solution
For Soft Space, the current product is merely a stop-gap solution, at least until contactless-based payments take off.
Driven by Near Field Communication (NFC) technology, the idea of using a mobile phone instead of a card has been the most hyped aspect of mobile payment to date.
Developed markets are particularly keen, with McDonald's in Britain announcing that all its 1,200 restaurants would accept contactless payment for meals under £15 (RM75).
Meanwhile Visa and Samsung have embarked on a partnership to bring mobile contactless payments based on Visa's payWave technology for the upcoming 2012 Olympic and Paralympic Games in London.
However, according to Yanna Dharmasthira, regional research director at Gartner Inc, NFC payment is more hype than reality.
Challenges remain, such as ingrained user behaviour related to card-based payment, lack of a strong business case for stakeholders, and a lack of interoperability.
"The industry is only scratching the surface and success is taking longer to achieve than expected, even in market conditions favourable to mobile payment," she said.
"We expect that NFC payment will be used by less than 10% of mobile users in developed markets by 2015."
Soft Space shares this scepticism over the mass adoption of NFC payments but believes it needs to look at it now, rather than waiting for it to become mainstream.
"Malaysians might more easily take to contactless payments since we're already comfortable with Touch n Go cards. So what is stopping us from having it in our phones?" asked Chang.
"That will take time but what we have now is not so different, you still present your card and sign. Only difference is you sign on a Tablet, not a piece of paper," he added.
The next step
Payment is a complex service that requires the collaboration of many stakeholders, and it is a journey that Soft Space has only just begun.
On April 9, Soft Space pitched their solution to Bank Negara and got a positive response.
According to Bank Negara, the solution is aligned with its agenda to promote electronic payments, and the Government's Economic Transformation Programme target to grow the number of merchants from the existing 250,000 to 1.3 million by the year 2020.
The biggest hurdle at least, is over and the team is now one step closer to answering those letters of intent.
Soft Space plans to make it affordable for users to adopt the solution, with the card reader priced at RM300 bundled with a free payment app and no sign-up fees or minimum transactions required. Apple device not included, of course.
Depending on the bank and volume of business, they expect the transaction fee to be at about 2.5% of the value.
The team is now gearing up to create more market awareness for its yet-to-be-branded solution for a public launch in July.
"I know, we haven't got a name for it yet," said Chang. "But we'll move at our own pace, in our own way… Malaysian-style."