We were invited to share our knowledge and experience on EMV, mobile payment and its value added services recently at the World Mobile Payment, Remittances & Financial Inclusion Conference 2013.
Chang Chew Soon, founder and CEO at Soft Space was invited to be a guest speaker at the international event. Sponsored by Western Union, the reputable event was held at the Ritz Carlton, Kuala Lumpur with delegates from various financial institutions such as Bank Negara Malaysia, Deutsche Bank, Barclays Bank and World Bank USA to name a few.
During the 45 minute session; Chew Soon enlighten the audience, kick starting with facts about EMV where he listed numbers and statistics of EMV cards, EMV terminals and the adoption rate in different regions. He slowly moved on to the history of EMV along with the implementation of EMV in Asia Pacific relating to Soft Space launch with Kasikorn Bank in Thailand.
Being the pioneer in the payments industry, Chew Soon shared his experience from the establishment of Soft Space to the achievement in fulfilling Soft Space's mission – to make it a reality for anyone to accept card payments anywhere, anytime, securely. With guiding examples of the existing user base in Thailand such as Amway, Nok Air, Muang Thai Life Assurance and small business such as merchants at the Major Avenue Ratchayothin's Night Market, Chew Soon highlighted how payments are being redefined. He later ended the session by stressing the further implementation and usability of EMV in many other solutions such as mobile wallet, multi-function and combo cards to name a few.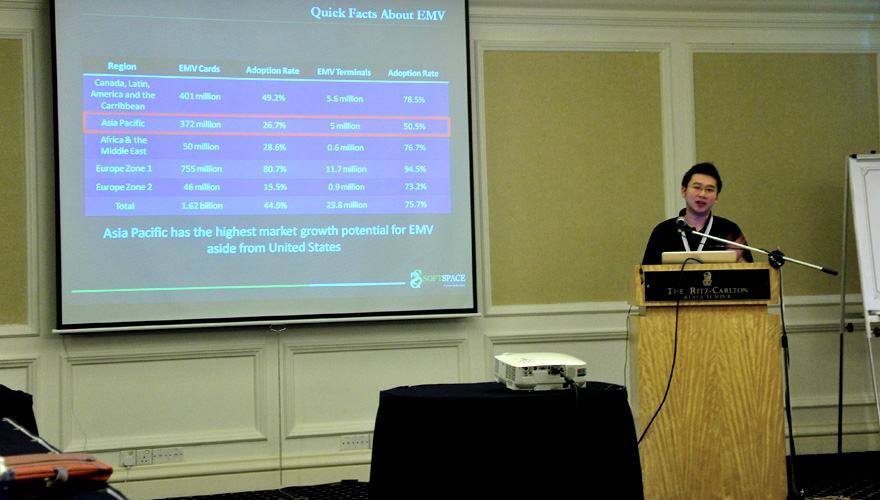 Chew Soon at the centre stage.
We are happy to be a guest speaker at the closed event and hope to be able to contribute and share our local experiences and learnings with everyone at a global level.
To view the presentation deck, please visit:
"How EMV Fits Into Mobile Payment And Its Value Added Services" by Chang Chew Soon