PETALING JAYA: Soft Space lands first customer in Malaysia, CIMB Bank Berhad – the second largest bank in the country. The solution, Plug n Pay will offer businesses of any size an affordable yet secure way to manage electronic payments using their smartphones and tablets.
We are proud to announce our third launch of the year, this time in our home country, Malaysia. CIMB Bank Berhad launched "Plug n Pay" mPOS solution, which is powered by Soft Space's white label mobile point of sale (mPOS) solution.
"This has been a much anticipated launch and we are ecstatic as we finally get to mark our presence in our own country," said founder and CEO of Soft Space, Chang Chew Soon.
The Plug n Pay solution, powered by Soft Space is protected with end-to-end encryption and is EMVCo Level 1 and Level 2 certified which meets global standards for authenticating card transactions.
"Security is of utmost importance to CIMB, and Plug n Pay is no exception. It is fully compliant with global EMV standards aim to reduce fraud associated with the existing technology to protect users during the payment," said Group Chief Executive of CIMB Group, Dato' Sri Nazir Razak.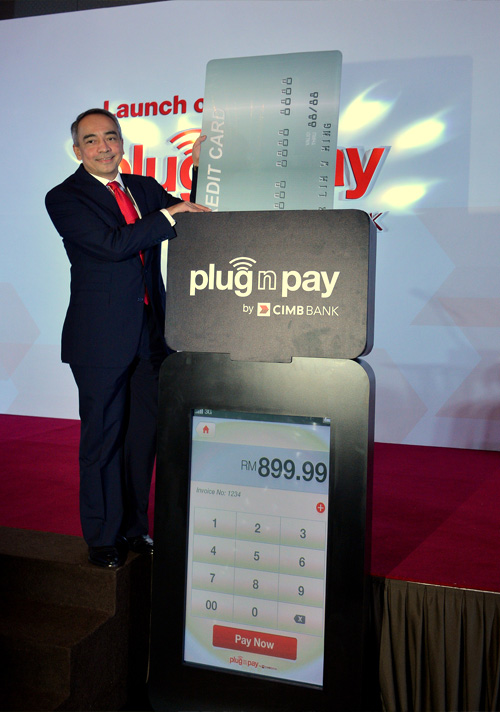 Dato' Sri Nazir Razak at the launch ceremony
Earlier this year, we have launched "K-Power Pay" with Kasikorn Bank Thailand in January and "Pay 'N Go" with Thanachart Bank Thailand last month.
For more news articles related to the launch, please visit:
Digital News Asia:
Soft Space lands a Malaysian bank; CIMB says it's a game-changer

The Star Online:
CIMB: Budget 2014 most challenging, expected to focus on restoring fiscal health

The Edge Malaysia:
CIMB's new Plug n Pay service targets new businesses