By A. Asohan, Digital News Asia – Source
Soft Space International Sdn Bhd is certainly on a roll – just days after CIMB Bank launched its 'Plug n Pay' mobile point-of-sale (mPOS) service built on the technology developed by the mobile payment solutions startup, DiGi Telecommunications Sdn Bhd announced its own service too.
The cellular company will in fact be partnering the bank in a six-month collaborative effort that would see them jointly marketing the Soft Space solution to both their respective customers, cross-selling across each other's sales channels, executives from CIMB and DiGi told the media on Oct 24.
"This is going to change the way businesses make payments, and how consumers make payments," DiGi chief marketing officer Albern Murty said at the launch of the DiGi mPOS offering at its head office in Shah Alam.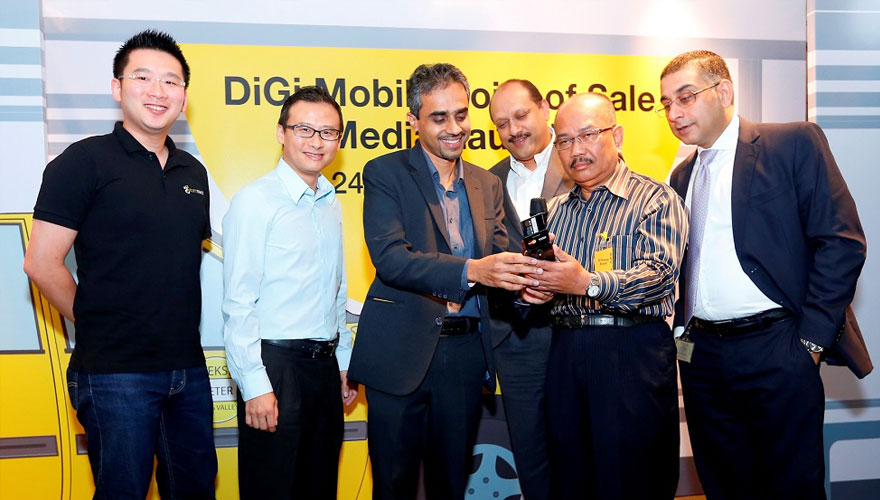 (L-R): Chang Chew Soon, Soft Space CEO; Kevin Lee, head of DiGi's mobile-to-mobile business; Albern Murty, DiGi CMO; Renzo Viegas, CIMB group deputy CEO; Sufriady Mohd Yusuf, Sunlight Unicablink executive director; and Safdar Khan, Mastercard Worldwide country head for Malaysia and Brunei.
"We have partnered many businesses over the years and understand the importance of introducing solutions that drives competitiveness, and at a price point that gives customers best value.
"mPOS is one such solution and we will make it easily accessible to more SMEs (small and medium enterprises) and enterprise businesses with the convenience of a full-packaged plan at the most affordable price in the market," he added.
Customers can get started immediately on the DiGi mPOS service with an RM715 starter pack that includes an HTC Desire C, 500MB of Internet access on an RM20 monthly plan, and the chip-based card reader that makes the solution possible.
[RM1 = US$0.32]
The card reader is a dongle that attaches to a smartphone or tablet, enabling it to receive payments via credit and debit cards using Soft Space's mobile app that can be downloaded for free.
The solution itself runs on both Android and iOS platforms, but the DiGi-CIMB partnership will focus exclusively on Android devices for the first six months.
Customers can opt for more advanced Android smartphones and even tablets; more Internet capacity; and even voice-call offers. Those who already own a device can just sign up for the monthly plan.
"We want to offer a simple and easy startup pack to get businesses started, plus a variety of upgrade options for flexibility," said Kevin Lee Guan Keong, head of the mobile-to-mobile business at DiGi.
"It allows businesses of all sizes to provide mPOS for their front-liners and retail touch-points," he added.
DiGi mPOS has already found its first big customer win, with Lee announcing on launch day that Sunlight Unicablink has signed on for 1,000 of its taxis to be equipped with the solution running on Android tablets.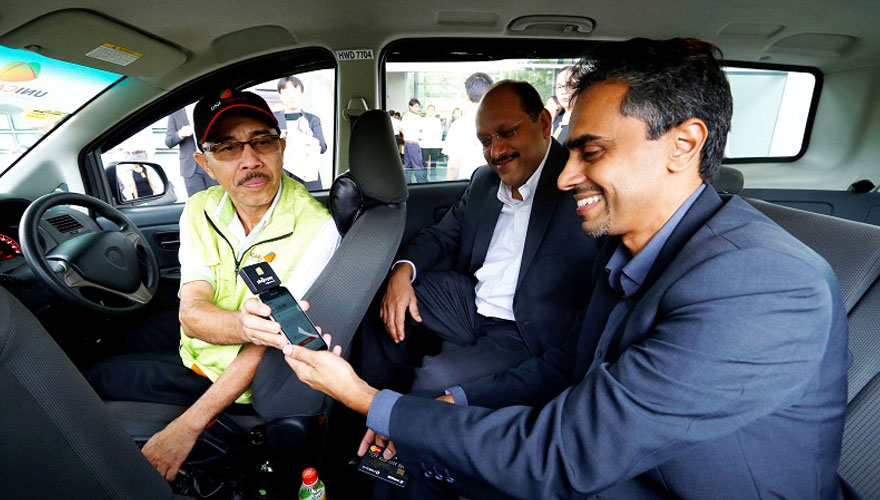 CIMB group deputy CEO Renzo Viegas and DiGi CMO Albern Murty test out the device in a Sunlight cab.
"We're extremely pleased to have DiGi as one of the partners in the commercialisation of CIMB Bank's Plug n Pay mPOS solution," said CIMB Group deputy chief executive officer and head of Consumer Banking Renzo Viegas.
"This type of service has become a necessity for business and fully supports Bank Negara Malaysia's push into the 'cashless' space. We look forward to great things from this partnership," he said, adding "I think the power of the partnership is phenomenal and very complimentary."
Viegas said the solution can be marketed to a wide variety of customer segments in the enterprise and SME space, including those with multisales channels, as well as FMCG and distribution companies.
DiGi's Lee noted that with 2014 being declared 'Visit Malaysia Year,' many tourists will be coming into the country and not all would want to carry cash around all the time.
"This solution will extremely useful to all types of merchants, including those at trade and travel fairs," he added.
The year 2013 is seeing Soft Space finally take off, after a long time of knocking on doors trying to sell its solution and its vision of mobile payments. Earlier this year, it landed two major banks in Thailand and another in Vietnam.
CIMB was its first customer in Malaysia, and sources close to the company told Digital News Asia (DNA) it will soon be announcing a second bank in Malaysia as a customer, and has more deals across Asia in the pipeline.
Earlier in October, it was declared the 'Best of Malaysian Startup Companies' and its technology judged the 'Best Financial Application' at the MSC Malaysia APICTA (Asia Pacific ICT Alliance) Awards 2013.
[Updated on 20th November, 2013]
For more related news articles , please visit:
The Star Online:
DiGi partners CIMB to launch payment solution