Soft Space's co-founder and chief technology officer, Toh Yit Ming was invited as a presenter at this year's TEDxYouth@KL. The event held at Penthouse @The Icon and attended by over 800 attendees to hear 12 inspiring presenters share their success and journey in changing their ideas to impact.
The topic Yit Ming chose to share was entitled 'Striving towards a cashless society'. In his 10 minutes speech, he shared his experience in finding his passion to founding an award winning company using his 3 circles method. He shared his journey of joy and pain in hopes to inspire youths to never give up in doing what they love.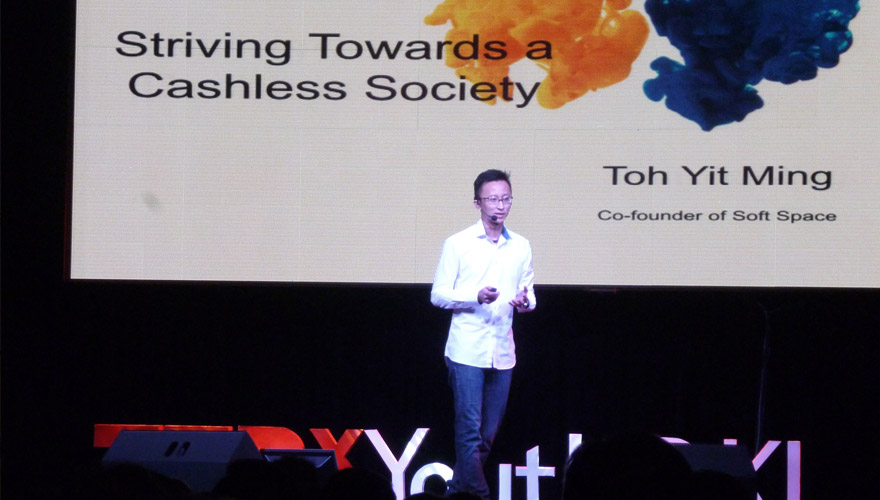 Yit Ming at the centre stage.
Yit Ming left the crowd with one piece of advice – 'Everyone has a sweet spot. When you find it, you'd be able to unleash your greatest potential'.
When asked how would he summarise his experience, he said "It was a fun and exciting day filled with adrenalin rush. It is my first time speaking in public and I am truly honored to be invited to speak at TEDxYouth@KL 2013 along side many other great speakers like Li Kheng Phng, Dr. Clarence N W Tan, Joyce Tagal, Dr. Louisa Ponnampalam, Azim Hulaimi, Razif Hashim, JinnyBoy, Sunny Singh, Gajen Nad, Christian Palencia and Suhaili Micheline".
A sketch that summarises the presentation by Bernie from Sketch Post Studio
To view or download the presentation deck, please visit:
"Striving Towards a Cashless Society" by Toh Yit Ming