By Behonce Beh, Focus Malaysia – Source
PETALING JAYA: It is not every day that a Malaysian start-up finds fame abroad before it does at home. For a company that is barely 24 months old, Soft Space Sdn Bhd has achieved in a short space of time what most start-ups can only dream about.
For starters, the mobile payment platform provider is touted to be one of the first companies in Asia to roll out a mobile Point of Sales (POS) platform for credit cards. What this means for us in the near future is the ability to pay for our taxi rides with credit cards or petty traders can now accept cards as a method of payment. In October, the company landed its first Malaysian customer – CIMB Bank Bhd – with its Plug n Pay solution which offers businesses an affordable yet secure way to manage electronic payments using their smartphones and tablets.
Soft Space founder Chang Chew Soon says the idea came from his father who saw the need for a mobile credit card payment solution. "He used to run a small motorcycle spare parts distribution business that relies heavily on his sales team to take orders and collect payment. For the longest time, he tried to get a credit card point of sale (POS) terminal from banks but they were not keen to do business with people like him who were not able to guarantee a minimum monthly transaction."
Chang's light-bulb moment came when his father complained that one of his salesmen who had worked with him for seven years, disappeared after collecting RM10,000 cash from a customer. "That got me thinking; there must be a way to address this situation and that is how the company started," explains Chang on how he started his venture with the aid of his background in software engineering. As he started the company in March 2012, Chang could not have picked a tougher industry to be in – financial services. Chang adds that it was important that they launch their services with a bank and not on their own as a third-party service provider. "Asia is a fragmented market; the market is not confident of any financial services product launched without the backing of a bank. We made it a mandate to explore new markets with a bank, which will be the one adopting our system and roll out the solutions."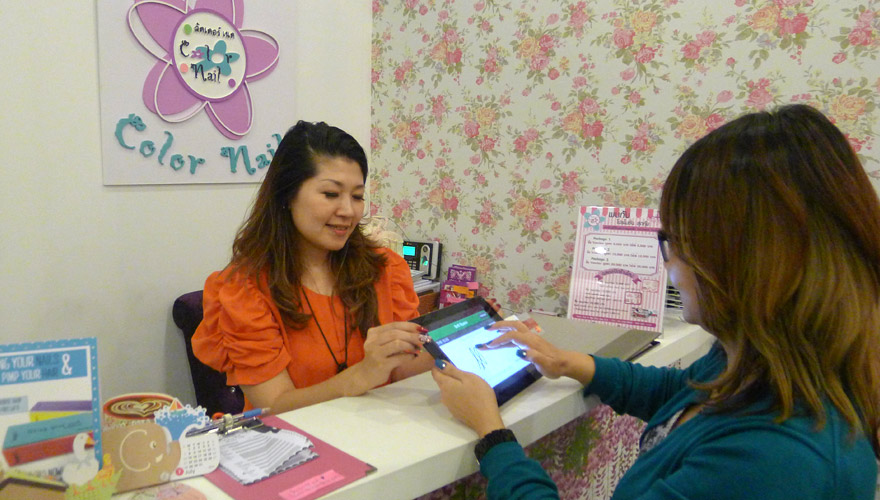 A customer using the Soft Space Solution at Color Nail, Thailand.
As Chang's bank accounts started to run dry, the team decided to try its luck in Thailand and pitched the product to one of the country's largest commercial banks – Kasikorn Bank – which is known for introducing innovative solutions to increase market share. "Most banks in the market did not bother with start-ups like us as we lacked credibility. When we first developed our solutions, we visited all the banks in Malaysia and every single one of them rejected us," says Chang. "They [Kasikorn Bank] challenged us in terms of security and we managed to address their concerns. We were barely a year old when they said 'yes' and it was a big achievement for us to make a name abroad."
That was the turning point for the fledgling company. The tables shifted as more banks started to knock on its doors, keen on implementing Soft Space's solution. Today, the company is working with 14 banks across Asean, including Thanachart Bank (of Thailand). Soft Space's solution is also certified by EMV (Europay, MasterCard and Visa) and is also the first Asian company to obtain EMV Level 2 certification for MPOS. Though Soft Space is a pioneer in this region, the Mobile POS (MPOS) system is not a new technology. Square from the US deploys a similar system which uses a credit card's magnetic strip compared to Soft Space's chip reader.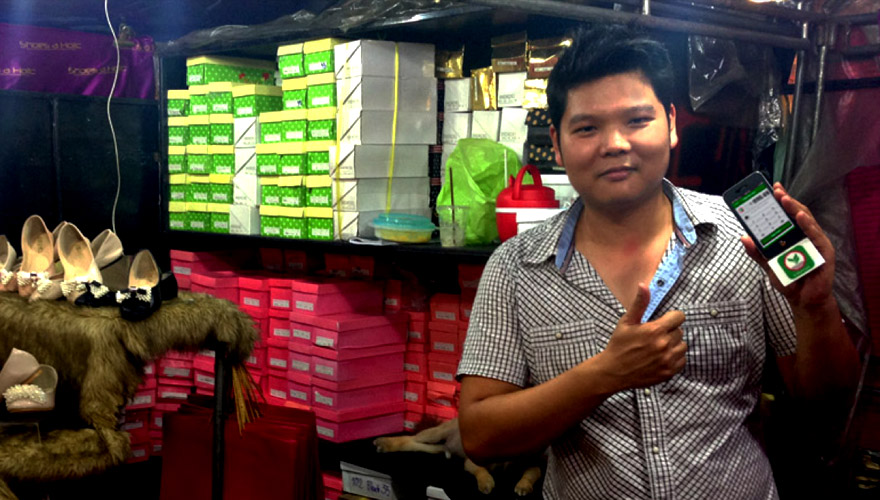 Card payment acceptance made available to all businesses – as seen in a night market in Thailand.
Chang explains that magnetic strip-based solutions are not suitable for Asia as the risk of fraud is higher, hence Soft Space's decision to roll out smart chip readers. Malaysia is one of the first few countries to introduce the adoption of chip-based payment card technology in 2003 owing to the high incidence of credit card fraud cases. Soft Space's card reader connects to a mobile phone's 3.5mm audio jack and scans the credit card's chip at the point of transaction. Once payment has been made, customers will receive a digital receipt via SMS or email.
What began as a six-man team has grown into a family of 30 staff. Chang acknowledges any growth plan relies heavily on the way he treats his workers. "Software engineers and programmers are knowledge workers. You cannot manage them the way you manage people in a corporate environment. "Our people are creative people in their own ways. Compared to those in the advertising and art fields, these people are creative in coding and programming for our future products," he says.
"The reception in Thailand has been positive since our launch in January this year. When we visited Chatuchak Market in Bangkok, we saw many of the traders there using our solution; from small traders to nail salons," adds a beaming Chang.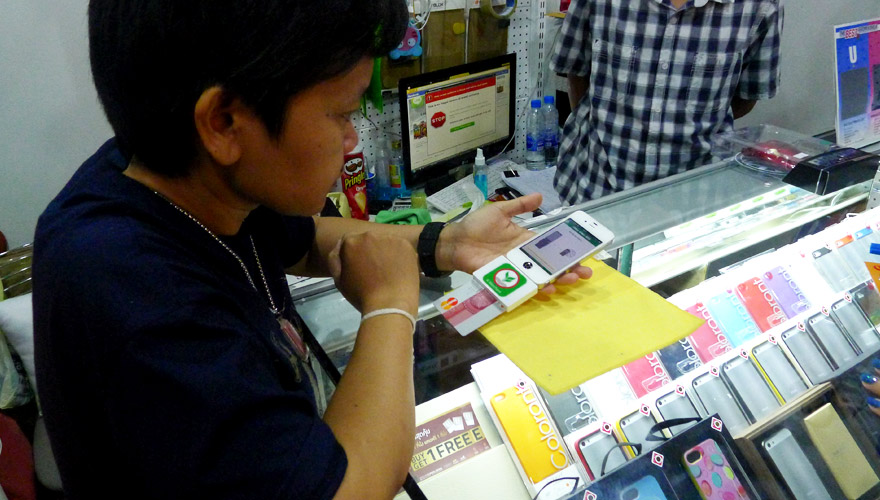 A phone accessory merchant using the solution on a iOS device in Thailand.
Moving forward, the company is keen to work with more regional banks and even has plans to expand into Hong Kong and Japan. "Unless we are doing a bad job, they [banks] are unlikely to change service providers. Hence, we are extending our solutions to value-added services such as points redemption to easy payment schemes on the same platform. "For banks to deploy 10,000 POS terminals is costly. Now, they can deploy more MPOS terminals at a lower cost with our solution," says Chang. A conventional credit card POS terminal costs RM1,200 to RM3,500. Soft Space's mobile POS terminal bundled solution that is offered by DiGi in Malaysia includes a mobile phone and data package that starts below RM1,000.
Adding another feather to its cap, Soft Space also won the Best of Malaysian Start-up Company from the MSC Malaysia Asia Pacific ICT Alliance (Apicta) Awards 2013.