Kuala Lumpur, 13th January 2017 – Sumitomo Mitsui Card Company (hereinafter "SMCC") (Head office: Japan, CEO: Ken Kubo) and Soft Space Sdn Bhd. (hereinafter "Soft Space") (Head office: Malaysia, CEO: Chang Chew Soon), a FinTech company, has signed a Memorandum of Understanding (MOU) to offer innovative payment solutions in Southeast Asia and Japan on 13th January 2017 at the Malaysian Investment Development Authority HQ in Kuala Lumpur.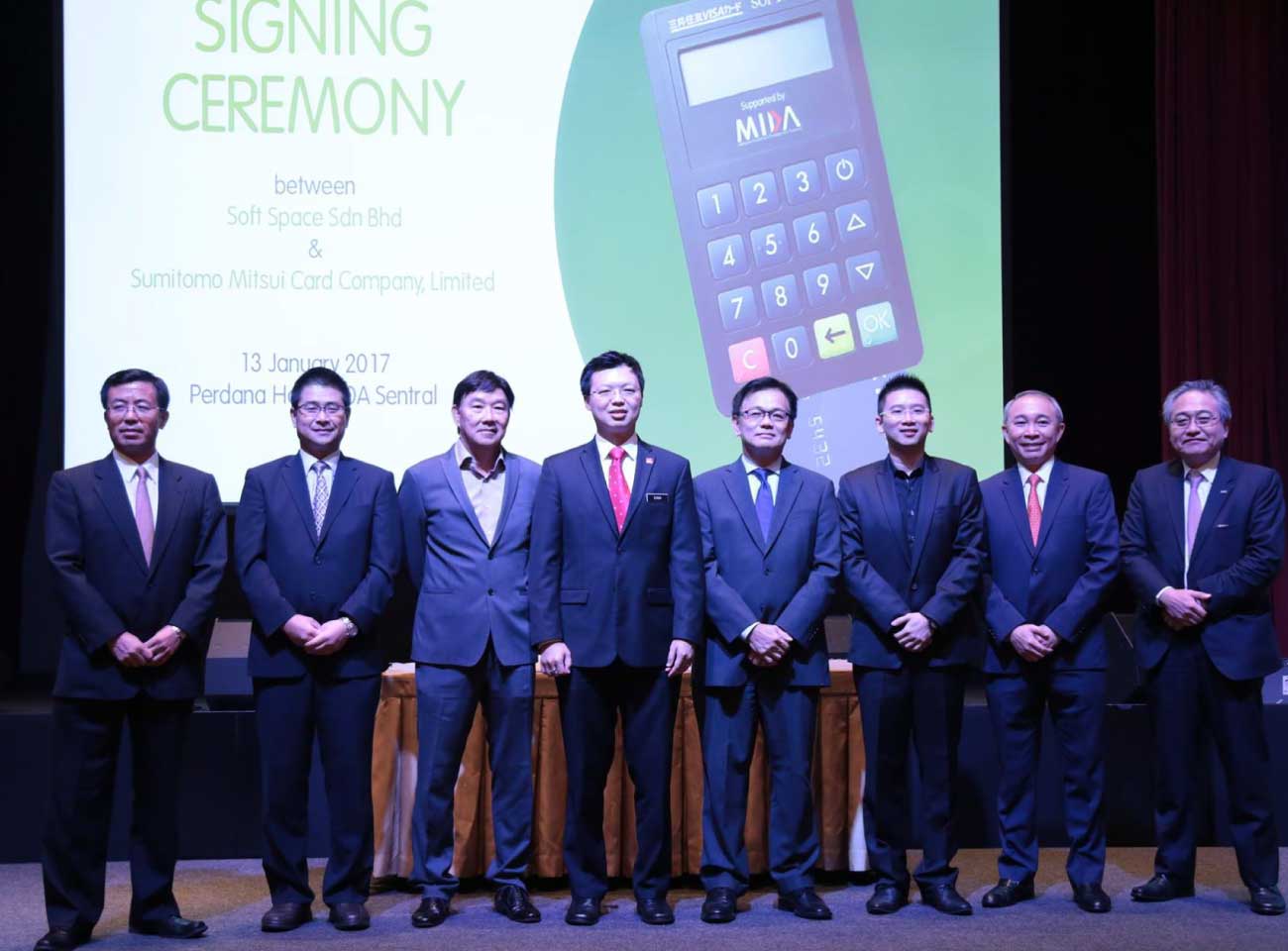 In 2014, SMCC started their Singapore office as their 2nd research office which mirrored the Silicon Valley office in the US (US office was opened in November 2012), researching on the FinTech landscape and its application to SMCC's core business. The Singapore office focused on market research for business expansion in the Southeast Asia payments market. This Agreement is the first partnership and first step for SMCC to expand its business presence in Southeast Asia.
Founded in 2012, Soft Space provides mobile payment solution in both developed and emerging countries within the region and has presence in 10 countries, with over 20 banks and financial institutions licensing its mobile payment technology. With its fast growth, Soft Space is becoming the leading Fintech company in Asia.
Soft Space with its wide variety of innovative payment solutions such as a mobile Point of Sales (mPOS) has enable both large and small businesses in accepting payments. Leveraging on the growth of smart mobile devices, Soft Space provides easy integration for businesses to integrate into its Point of Sales (POS) or to any other third party applications. Powered by its centralized EMV level 2 processing technology, Soft Space's solutions is nimble enough to serve various industries such as airline, insurance, logistics, and etc.
As part of the collaboration, SMCC will introduce Soft Space's solution to Japanese companies and local banks that are in partnership with Sumitomo Mitsui Financial Group. SMCC, which has vast experience in a variety of payment solution, will provide suitable payment solutions based on the unique environment of Southeast Asia.
Through this alliance, SMCC will consider issuing co-branded card (Issuing business) and provide payment acceptance points to merchants (Acquiring business) in Southeast Asia. Simultaneously, SMCC hopes to introduce Soft Space's solution in the Japan market to cater to the needs of its customers.
To date, SMCC has developed relationships with Fintech companies such as Square Inc. and Stripe Incs, which are US-based companies, by business and capital alliance. SMCC will continuously seek for new business alliance with all startups not exclusive to FinTech companies in Southeast Asia.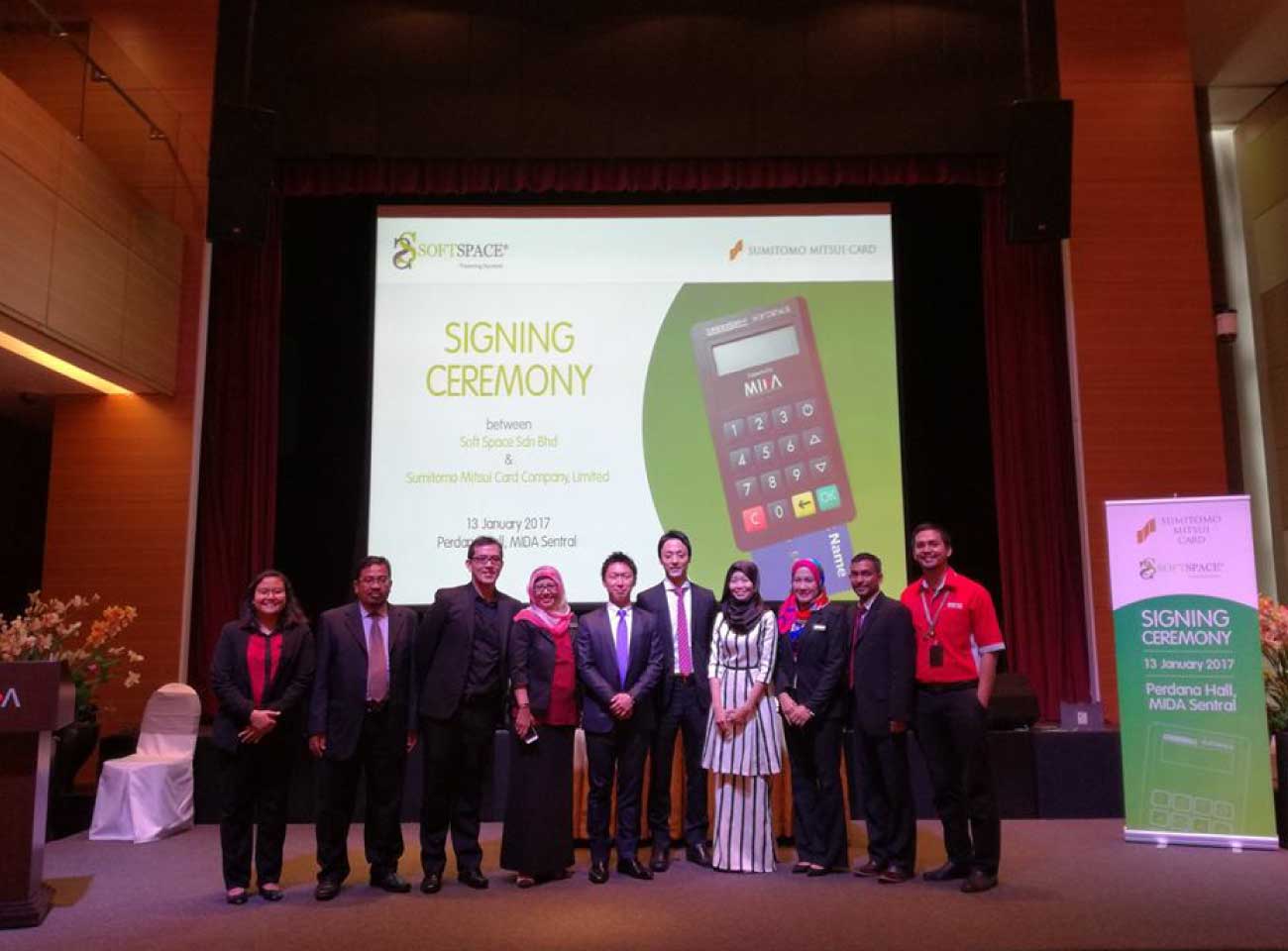 On congratulating Soft Space and SMCC on this collaboration, YB Datuk Chua Tee Yong, Deputy Minister of International Trade & Industry said, "The sealing of the collaborative venture between both companies today is a significant milestone not only for Soft Space, but also for Malaysia. This reflects that Malaysian technology companies are of international standards and able to meet stringent global requirements. The fact that SMCC, a member of the Sumitomo Mitsui Financial Group – a top Japanese conglomerate, have chosen a Malaysian company for its expansion into the ASEAN payment market, underscores the creative capabilities in the country."
"I am happy to note that the incentives provided by the Government has accelerated Soft Space's growth and innovative capabilities in a shorter period of time than expected. The assistance has enabled Soft Space to build a stronger R&D foundation and continuously introduce innovative products," YB Deputy Minister further added. Soft Space has been granted the Domestic Investment Strategic Fund (DISF) and Pioneer Status Incentive for high technology industry by MIDA in December 2013.
"I am very happy with the collaboration as it is a strong testament of Malaysian talent and Malaysian's ability to expand internationally", said Chang Chew Soon, CEO of Soft Space. He added that SMCC embracement of Fintech provides evidence on the viability of Fintech and provides leadership to other banks in embracing Fintech.
Senior Managing Director and Representative Director of SMCC, Kazunori Okuyama said, "We are truly happy to announce the partnership with Soft Space and so excited to start working with their team in the ASEAN region and Japan. We strongly believe that the solution of Soft Space has huge potential for the payment innovation with their flexible technical ability and speed-to- market. That will definitely help us to expand our reach to new customers and new markets".