Kuala Lumpur, 4 Oct 2017 – Soft Space Sdn. Bhd. reached an agreement to form a business partnership with Sumitomo Mitsui Card Company (SMCC) a company belonging to Japanese conglomerate Sumitomo Financial Group (SMFG) with Sumitomo Mitsui Banking Corporation (SMBC) as its centerpiece. The agreement composed of integrating and customizing Mobile Point of Sales (MPOS), E-wallet solutions, providing EMV card readers and collaborating in digital payments related opportunities with SMCC.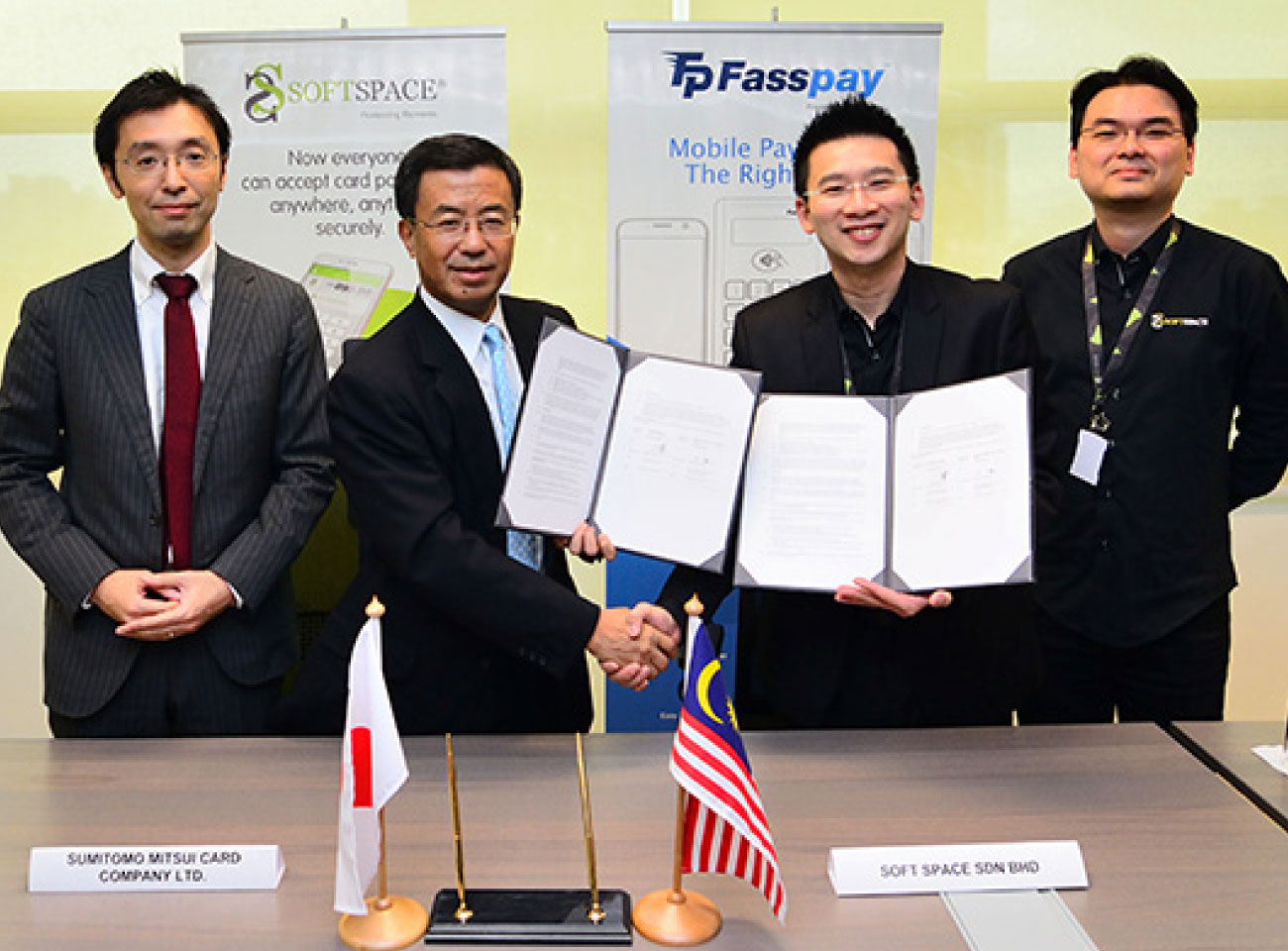 Group photo (from left to right): Hikaru Matsui, Kazunori Okuyama, Chang Chew Soon, and Joel Tay
This business collaboration between Soft Space and SMCC is set to increase and gain a competitive edge from both of their synergistic strengths. The partnership will increase their brand awareness, expand their customer base and enhance their products and services that they are offering.
The partnership includes "targeted countries" such as; Malaysia, Singapore, Philippines, Thailand, Vietnam, Indonesia, Myanmar, Cambodia, India, and Japan.
In January 2017, Soft Space and SMCC signed a Memorandum of Understanding (MOU) to offer innovative payment solutions in Southeast Asia. This collaboration has introduced Soft Space's solution to local Japanese companies and banks which are in a partnership or in an existing business relationship with SMCC and SMBC within their strategic focused countries mentioned above.
Soft Space is the leading Fintech player in ASEAN and is one of the major MPOS providers in the region that aims to transform the payment industry. Soft Space is the first company in Asia to obtain a centralized EMV Level 2 certification for cloud-based server, and their solutions are certified by EMV, PCI, and major card schemes; making it secure, credible and recognized globally.
"This business alliance with SMCC will assist Soft Space in achieving our strategic business objectives and increase our growth opportunities in the targeted countries. Through this business alliance, Soft Space hopes to create a stronger relationship with SMCC, SMBC and other SMFG affiliates for mutual business expansion", quoted Joel Tay, the CEO of Soft Space. He also mentioned that the partnership can provide important consumer behavior data and information in order to improve Soft Space's payments solutions.
"We hope that the alliance can help spread Soft Space's reach to different ASEAN countries that the company has not yet venture into" mentioned Chris Leong, CSO of Soft Space.
As featured in:
Business Today – SOFT SPACE TO PROVIDE PAYMENT SOLUTIONS FOR SUMITOMO MITSUI CARD COMPANY
Digital News Asia – Soft Space in business alliance with Sumitomo Mitsui Card Company
Jiji News – 三井住友カード、マレーシアのフィンテック企業と業務提携