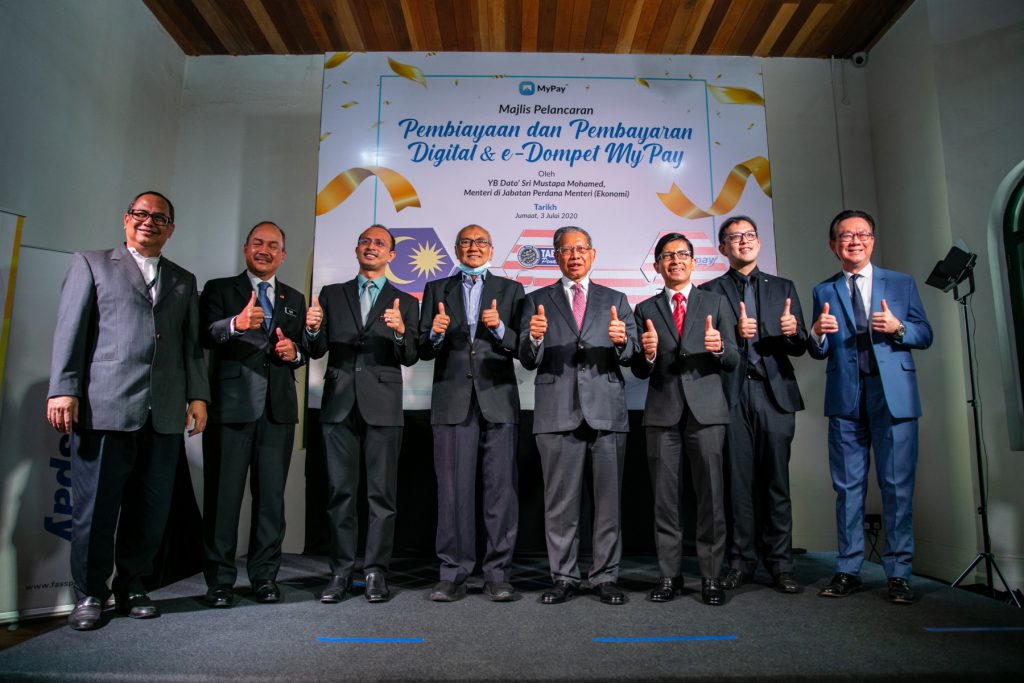 A Collaboration Between DAPAT Vista, PTPTN, Bank Islam and Fasspay
Kuala Lumpur, 3 July 2020 ​- YB Dato' Sri Mustapa Mohamed, Minister in the Prime Minister's Department (Economy), today launched the collaboration of MyPay's digital payments, digital financing and e-wallet features. Hosted by DAPAT Vista (M) Sdn Bhd, collaborating partners the National Higher Education Fund Corporation (PTPTN), Bank Islam Malaysia Berhad (BIMB) and Fass Payment Solutions Sdn Bhd (Fasspay) also participated in the event. Dato' Dr. Yusof Bin Ismail, Director-General of the Malaysian Administrative Modernisation and Management Planning Unit (MAMPU) graced the event.
YB Dato' Sri Mustapa Mohamed observed that Malaysians seem to be adapting well to the 'new normal'. In addition to growing public confidence in resuming their daily lives, there was also a marked increase in ventures into digital space. During the COVID-19 outbreak, the Government accelerated its digital transformation agenda as part of the 'new normal' to achieve the highest standards of efficiency, convenience, transparency and rapid response in Government services for the benefit of the people. YB Dato' Sri also hoped that the PPP (public-private partnership) would be intensified to leverage on what ICT can offer. The Government's digital agenda also aims to empower consumers, especially the rural and suburban (B40) communities so they are not left behind.
The collaboration between DAPAT Vista, PTPTN, Bank Islam and Fasspay aims to expand MyPay's capabilities.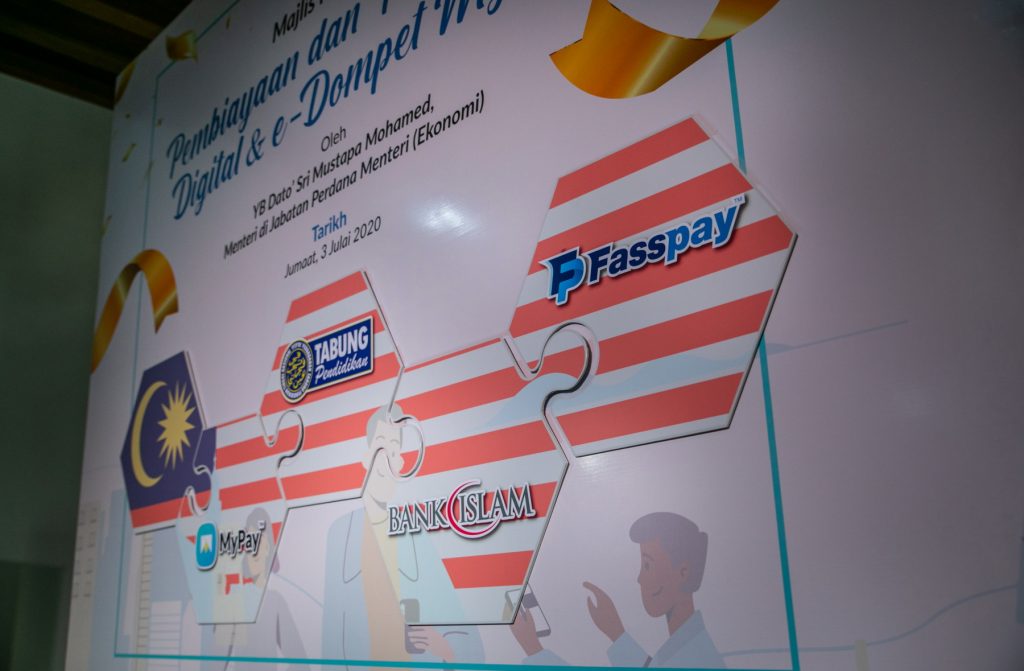 PTPTN recently transitioned from SMS to MyPay's mobile payment system for its education loan repayments and SSPN savings. The relationship between DAPAT Vista and PTPTN began way before MyPay was developed. "PTPTN embarked on the Government's mySMS 15888 SMS initiative shortly after it went live with SMS checks for student loan balance," said En. Sabri Rahman, Executive Director of DAPAT Vista. As DAPAT Vista evolved from messaging solutions to mobile payments via MyPay, PTPTN became one of the pioneer agencies which made the transition together in the digital paradigm shift. "It is truly a blessing and one for which I hold PTPTN in high regard for," said En. Sabri.
Encik Ahmad Dasuki Abdul Majid, PTPTN's Chief Executive said, "We are pleased to partner with DAPAT Vista in this venture to encourage consistent payment and deposits among PTPTN borrowers and SSPN depositors. MyPay is an efficient e-payment service that gives convenience to our customers."
"MyPay's all-in-one concept is all about making life easier. This is more significant especially now, as we adjust to an altered lifestyle. The strategic alliance with Bank Islam is not new. In February this year, DAPAT Vista and Bank Islam inked a collaborative agreement for eJamin, the online bail payment solution for the courts," said En. Sabri Rahman. "I am very grateful and happy for the extension of this alliance. The availability of the whole personal financing process in mobile phones will make it convenient for Malaysians who are becoming ever-reliant on their hand held devices for their daily needs", he added.
The presence of an e-wallet will increase the convenience of MyPay's usage and align with the government's vision to empower the rural and suburban communities to become more digital via the secure, cost-effective and easy-to-use MyPay app. The increase in capability will allow Bank Islam to offer an enhanced customers' experience especially within the digital sphere.
"Following the success of eJamin, Bank Islam is honoured to be given the trust and confidence in partnering with DAPAT Vista once again. This collaboration is part of Bank Islam's Digital Journey in innovating our banking offerings to fulfill customer's expectations and experience. Through MyPay, Bank Islam will be able to leverage on DAPAT Vista's expertise in the digital space and transform our business by enabling us to reach a wider range of network, including the unbanked and underserved. Available 24 hours, 7 days a week, customers are now able to apply for Bank Islam's Personal Financing at any location. Moving forward, we hope to expand the services offered for the benefit and convenience of our customers," said Encik Mohd Muazzam Mohamed, Chief Executive Officer of Bank Islam Malaysia Berhad.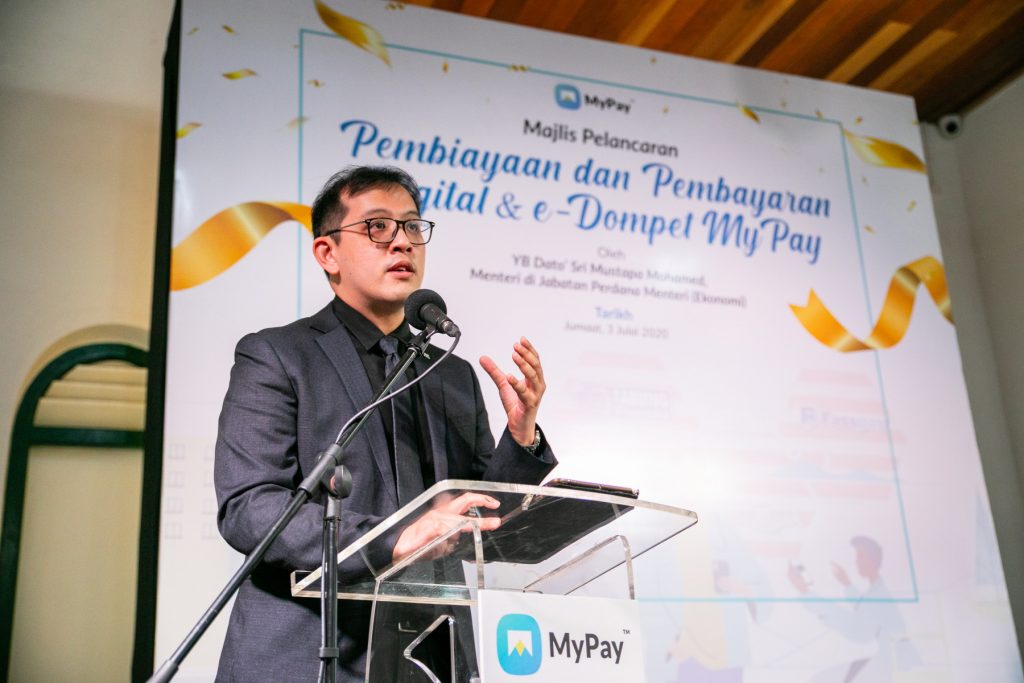 The e-wallet integration into the MyPay app effectively powers innovation among what is known as the 'B40' class," said Chris Leong, Chief Executive Officer of Fass Payment Solutions Sdn Bhd. "With the recent approval from Bank Negara Malaysia to allow our e-wallet to transact with a significantly higher limit, MyPay users can have access to financial facilities which they otherwise would not have been able to, thereby promoting financial inclusion."
MyPay can be accessed through ​www.mypay.com.my​ or downloaded from App Store or Google Play.