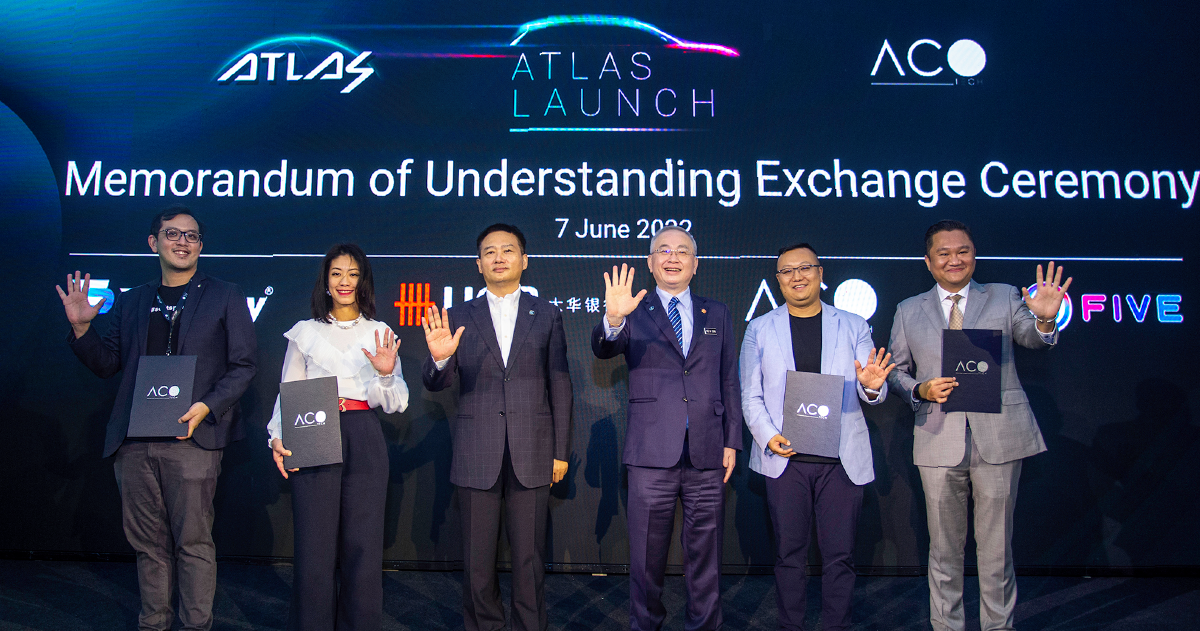 ACO Tech enters new partnership with (left to right): –
Mr. Chris Leong, CEO of Fasspay; Ms. Ng Wei Wei, CEO of UOB Malaysia; Dr. Li Chunrong, Chairman of ACO Tech; Yang Berhormat Datuk Sri Ir. Dr. Wee Ka Siong, Minister of Transport Malaysia; Mr. Li Pu, CEO of ACO Tech; Dato Seri Dr. King C.F. Lim, CEO of FIVE 
MALAYSIA, 7 JUNE 2022 – ACO Tech, today at the official launch of ATLAS, announced a new strategic partnership with UOB Malaysia – a member of UOB, Asia's leading bank, Fass Payment Solutions Sdn Bhd ("Fasspay") – a leading licensed white label e-wallet provider and homegrown digital energy company – FIVE Petroleum Malaysia (FIVE) to deliver new-gen user experience that is tailored for the automotive industry. The launch and partnership ceremony was witnessed by the Minister of Transport Malaysia, Yang Berhormat Datuk Seri Ir. Dr. Wee Ka Siong.
Led and developed locally, ATLAS is an operating system built as an automotive system solution that runs on the open source Android 10 platform and above. ATLAS is committed to shape a new automotive ecosystem of connected software and hardwares, including an in-vehicle infotainment system, a mobile application named ATLAS Auto and a human-touch communication such as wearable technology that connects with the vehicle and the mobile application. Specifically designed to integrate the concept of humanised connected lifestyle into the drivers' automotive experience, ATLAS is a scalable ecosystem that can be customised into the automaker's development cycle.
Under the partnership, ACO Tech will collaborate with UOB Malaysia, Fasspay and FIVE to jointly provide end-to-end in-vehicle connected services, further extending the ecosystem of partners into the company's proprietary technology, ATLAS:-
VEHICULAR PAYMENT FEATURE: ACO Tech, UOB Malaysia and Fasspay (the provider of fintech backend) will work together to implement a car-based digital wallet system and an integrated automotive payment system that are tailored for the in-car environment. These features will be available by fourth-quarter 2022.
HASSLE-FREE DRIVING EXPERIENCE: The collaboration with FIVE will further strengthen ATLAS' user experience by offering nationwide automotive-related support through its extensive network of approved service providers, automotive merchants and seamless refuelling experience at FIVE petrol stations.
At the same event, ACO Tech has also signed a Memorandum of Understanding (MoU) to expand its partnership with Huawei Technologies (Malaysia) Sdn Bhd to continuously develop cloud-based automotive solutions on Huawei Cloud for the regional markets. The extended collaboration will see both companies leverage their technological capabilities to accelerate innovations in software applications for Big Data and Artificial Intelligence to further promote the adoption of the smart mobility lifestyle.
"As auto manufacturers strive to deliver a connected and personalised driving experience to the consumers, it is imperative for ATLAS to be agile, scalable and ever-evolving. While ensuring our technology capabilities are optimised to rapidly adapt to the demanding needs, building relationships with industry partners continues to be a priority for ACO Tech to provide innovative in-car experiences that make perfect sense to the drivers," said Mr. Li Pu, CEO of ACO Tech Sdn Bhd.
"We are excited to collaborate with UOB Malaysia, Fasspay, FIVE and Huawei. Our partners' strengths in their respective industries and robust resources have enabled us to further broaden ATLAS' competencies to ensure we always stay relevant and our offerings are accessible at home, on the road and everywhere in between. Essentially, our vision for our technologies is to enrich and complement every part of our users' lives in the best way possible, continued Mr. Li Pu. He further commented that a global partnership which focuses on audio streaming experience is well under way and will be announced by end of June 2022.
Today, there is more than 10,000 automobiles on the road are equipped with ATLAS and ATLAS Auto App. ATLAS is now available in vehicles fitted with ATLAS Infotainment Head Unit (IHU) that runs on Android 10.0 and above. For further information about ATLAS, please visit https://acotech.my/
Note:
The availability of ATLAS may differ by vehicle specification or require the installation of certain features in order to be fitted.