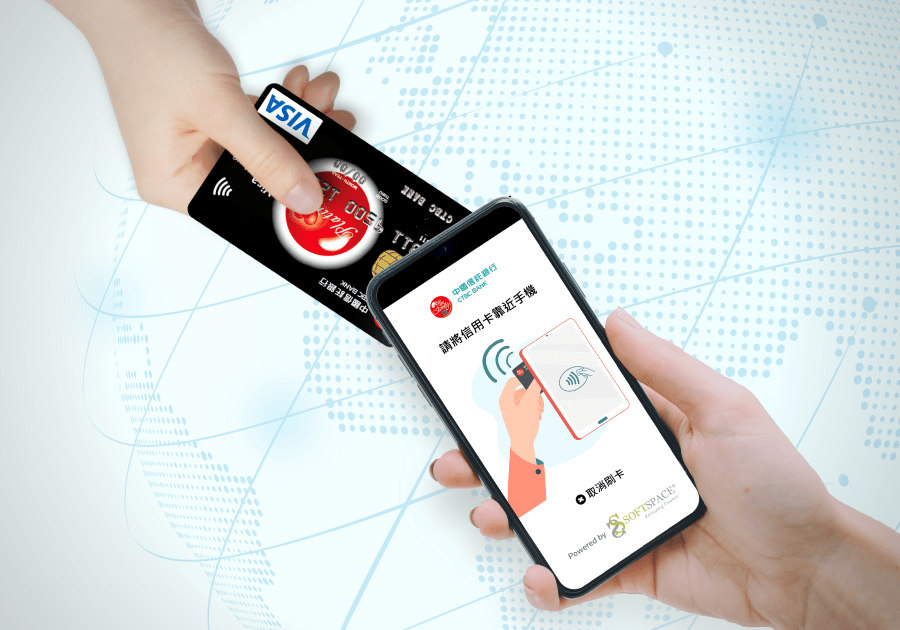 The solution will be used by the leading taxi companies in Taiwan enhancing superior customer
experience amongst many other benefits
KUALA LUMPUR, 1 September, 2022: CTBC Bank has launched an innovative card acceptance service that will allow its customers to simply tap their mobile phone or physical credit or debit cards on Taiwan Taxi's drivers' mobile phones to pay for their taxi fares.
Powered by the world's leading fintech player Soft Space Sdn. Bhd. ("Soft Space"), CTBC Bank's "Tap to Phone" service leverages Android smartphones with near-field communication (NFC) technology to accept contactless card payments.
Tap to Phone has been approved by payment brands and PCI CPoC standards to ensure that all payment transactions are encrypted with multiple security layers to prevent credit card information and sensitive data on the mobile phones or tablets from being accessed by third parties.
CTBC Bank's Tap to Phone solution came to market as a result of a new era of post pandemic, where consumers are increasingly accustomed to using cashless methods to pay for their purchases. The cooperation with the leading taxi operators – Taiwan Taxi and its 55688 Delegated Driver Service – will enhance customers' riding experience as fare payments now can be made just with a tap on any of the of the drivers' mobile phones. There are over 5,000 taxi drivers and 2,000 designated drivers collectively in the two companies and they also benefit as they do not need to invest in expensive dedicated payment terminals.
Consumers can use a physical credit cards or mobile wallets such as Apple Pay, Google Pay, Samsung Pay or smart watches and wearables to make a quick payment by tapping the back of the driver's mobile phone.
"As the largest commercial bank in Taiwan, we are constantly finding new ways to enhance customer experiences. By partnering Soft Space, we ensure that our innovation can empower small businesses, such as taxi drivers, to experience a more convenient, affordable, and secure way to collect fares, and Tap to Phone does exactly that, "said a spokesperson from CTBC Bank.
"This partnership has demonstrated that contactless payments have potentially limitless applications because Tap to Phone as a SoftPOS payment solution can be seamlessly deployed to what is already available out there in the market, in this case the thousands of NFC-enabled devices that taxis drivers own.  We are privileged to work with CTBC Bank on this and we are proud that our technology is being used to further democratise payments on a daily basis through taxis rides, said Joel Tay, Chief Executive Officer, Soft Space.
Taxi drivers wishing to use this solution will need sign up with CTBC Bank to activate their accounts. Upon doing, they will need to acquire an NFC-equipped Android smartphone or tablet and download the CTBC Bank's Tap to Phone application from Google Play Store to start turning the devices into secure payment terminals without the need to apply for a dedicated payment terminal.
Merchants from other industry sectors are also welcomed to offer the Tap to Phone service in collaboration with CTBC Bank. For instance, Tap to Phone can be used both inside and outside retail stores, making it much more convenient.
Besides the convenience of a cost-effective and secure payment terminal, CTBC Bank offers the merchants a portal that will allow merchants to check their daily transaction records for reconciliation purposes. CTBC Bank will also provide receipts to consumers by SMS, email or QR code, which significantly reduces merchants' burden of keeping paper receipts as well as eliminating the related risk and costs. The payment options of Tap to Phone also support instalments and CTBC Banks' reward points redemption.
With the change of consumer behaviour, the Tap to Phone service is expected to help merchants offer a paperless and fast checkout experience that is easy, convenient, safe and in an environmentally friendly manner.