We were invited to share our experience and growth as a Malaysian company with global presence recently at the MSC Malaysia SCORE+ Acceleration Program.
Chris Leong, director of corporate and strategy planning at Soft Space was invited by MSC Malaysia to share his thoughts on building globally competitive Malaysian outsources. Organised by MDeC Malaysia, the event held at One World Hotel, Bandar Utama came out a success as we received positive feedbacks from both the audience and the organisers.
During the 45 minutes talk; Chris shared his experience, development and tough decisions made throughout the 15 months of company establishment. Starting off by introducing Soft Space along with its solutions provided, he continued to engage the crowd by addressing the issues that is faced by the company on a day-to-day basis. Chris pointed out the obstacles faced such as being too young of a company, being a Malaysian technology company and also the slow adoption of technology in Malaysia. He also threw out a tip on how Soft Space pulled through, which is hiring and working with the right people, being at the right place, all at the right time.
Drifting through topics like driving forces of business (internet and revolution of the PC and mobile devices), the next generation of users, leveraging on the right driving forces and the gap that exists, Chris concluded that companies and businesses should "build local, aim global". The key takeaway of the talk was being smart in the business, nimble and flexible to overcome situations, and one must embrace changes along the way. Also important is having a great team to work with and no matter if you are a big or small player in the industry, everyone has to run and strive towards growth and survival. Using the right tools at the right time, gives small businesses the same level playing field as the big businesses.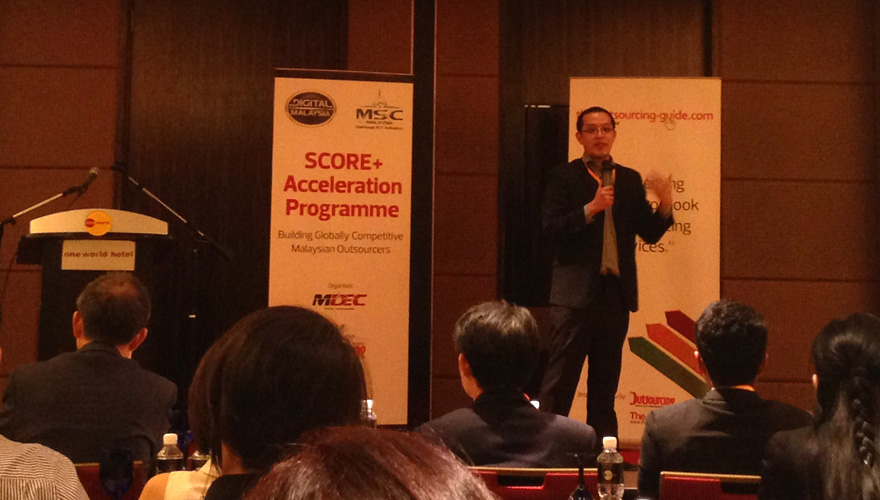 Chris Leong at the centre stage.
We are happy to share our experience and encourage all fellow Malaysians to dream big and never give up – it's the first step to success.
To view or download the presentation deck, please visit:
"Dream Big, Always Believe" by Chris Leong