PETALING JAYA: Since the launch of Plug n Pay by CIMB Bank Berhad back in October 2013, we are slowly seeing progress in the adaptation of mPOS within Malaysia. The recent exciting development is the announcement by The Pahang State Government of Malaysia who will be working with CIMB Bank to rollout Plug n Pay to citizens and businesses within the region. Plug n Pay by CIMB is powered by Soft Space.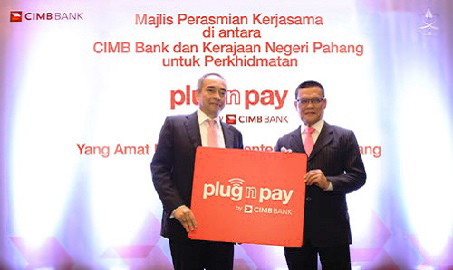 Dato' Sri DiRaja Haji Adnan bin Haji Yaakob, Chief Minister of Pahang (right) and Dato' Sri Nazir Razak, Group Chief Executive, CIMB Group (left) at the launch
Plug n Pay by CIMB Bank is Malaysia's first-ever chip-based mobile point-of-sale (mPOS) solution that offers organisations of any size an affordable yet secure way to manage electronic payments using their smartphones and tablets.
With Plug n Pay, transactions such as the payment for land assessment fees and summonses can now be done anytime and anywhere. For instance, the Kuantan Municipal Council has a mobile van that goes around collecting unpaid assessment but the only mode of collection currently is cash. With Plug n Pay, the public is able to settle fees securely on-the-spot using either their credit or debit card. Besides the convenience, this payment mode reduces the risks associated with cash handling as well as increases the efficiency in collecting unpaid fees.
"The needs and well-being of the people is always a priority. It is inscribed in the state's motto to proactively offer quick and efficient solutions to stay relevant and meet the people's demands. Furthermore, one of the core strategies in the state's Strategic Plan mapped out last year is to improve the administration of the state with the effective use of technology. With more people growing accustomed to online and mobile solutions in their daily lives, we need to evolve our service delivery to support this behavioural shift, and I believe that adopting the Plug n Pay by CIMB Bank is an initiative that will help us achieve that," said Dato' Sri DiRaja Haji Adnan bin Haji Yaakob, Chief Minister of Pahang.
As a start, the Kuantan Municipal Council and Yayasan Pahang have signed up for Plug n Pay.
"I'm expecting the other offices, namely the Municipal and District Councils and the Land Offices to also sign up for Plug n Pay soon. This will complement other various CIMB Bank's online banking services such as CIMB Clicks, cash management online solutions, and so on, that the state offices have been utilising for effective and efficient service delivery to the people," he added at an event held to formalise the initial successful sign-ups.
Also present at the event, Dato' Sri Nazir Razak, Group Chief Executive, CIMB Group said, "We are honoured that the Pahang State Government has chosen to adopt CIMB Bank's Plug n Pay as a payment service. It is truly a privilege that we are able to support Pahang in leading the way to bolster the Malaysian government's effort in promoting the adoption of e-payments and reducing dependency on cash transactions for greater economic efficiency. We are confident that the availability of the Plug n Pay service would be a welcomed move not only by the Malaysian government, but also by the citizens of Pahang given the extensive use of credit cards and rapid adoption of electronic devices in this state."
"We will work closely with the Pahang State Government to ensure the smooth roll-out of Plug n Pay to all the Pahang government's offices. CIMB Bank is committed to putting the necessary resources behind this collaboration to ensure that Pahang will successfully lead by example with the use of Plug n Pay as a choice payment solution by its people," Nazir concluded.
By simply plugging in the portable Plug n Pay card reader into their mobile devices, companies can readily accept chip or signature-based credit and debit cards and safely conduct transactions using the Plug n Pay mobile app.
The Plug n Pay solution is protected with end-to-end encryption and the app can only be activated if the correct security credentials are provided. Users can also be assured of a safe and secure cashless transaction using Plug n Pay as it is both Europay, MasterCard and Visa ("EMV") Level 1 and Level 2 certified – a global standard for authenticating credit and debit card transactions using the same chip-based security measures as conventional point-of-sale terminals.
Upon confirmation of a transaction, electronic receipts can be immediately issued via email or SMS. Companies can also effectively manage electronic payments where they can view real-time transactions, track the location of a transaction using the geo-location feature and user details management via the mobile app and the web-based Plug n Pay portal.
For the original post, kindly visit CIMB Group, Press Release.