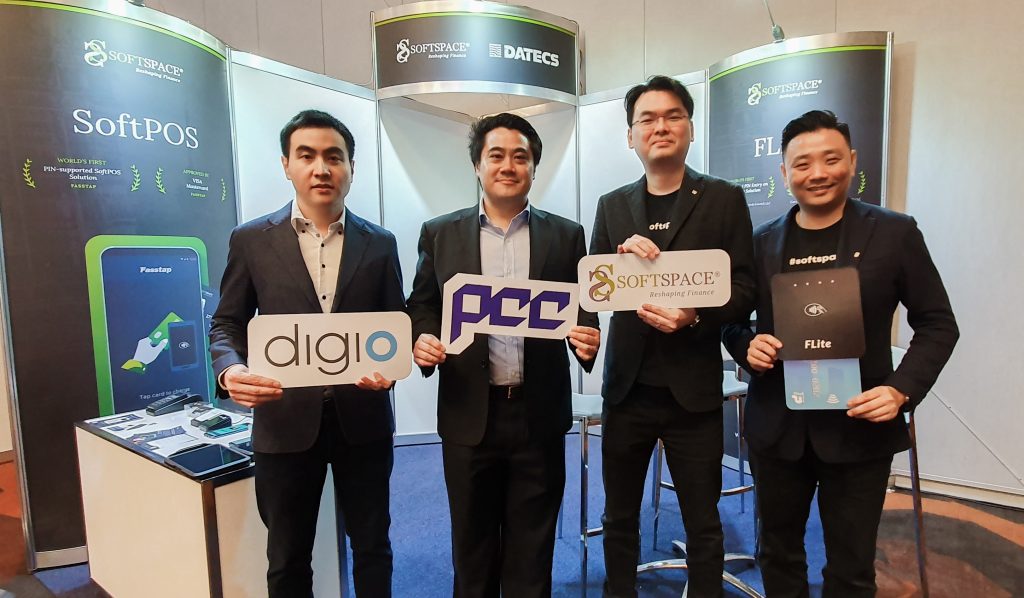 The collaboration with Soft Space and Digio will enable Thailand's largest bank to introduce a secure, reliable, and affordable payment solution
Melbourne, 21 November 2019 –  Thailand's digital payment industry is expected to advance in 2020 with interbank payment provider, Processing Center Company (PCC), adopting an innovative low-cost payment solution by one of Thailand's leading banking players.
Collaborating with Asia's leading financial technology (fintech) company Soft Space and its Thai-based fintech partner Digio, the solution called "FLite" will be deployed by one of PCC's shareholder bank and is aimed at encouraging a more pervasive use of cashless payments in Thailand.
FLite is a secure, fully-featured and affordable card acceptance channel designed especially for SME merchants. Certified by the Payment Card Industry Security Standards Council (PCI SSC) to be the first of its kind in the world, FLite comprises an NFC-based (near field communication) EMV chip reader that pairs via Bluetooth with merchants' smartphones preloaded with the bank's secure payment application.
The announcement was made at the 2019 PCI SSC Asia-Pacific Community Meeting, a data security event where payment card industry experts met to discuss the latest technical and security updates.
"PCC's aim is to provide an affordable solution for the banks to acquire merchants," said Worawat Paarpon, Managing Director of PCC. "With Thailand achieving 83% growth for e-payment transactions from 2016 to 2018, we believe FLite, a world's first, will grow this figure further and go a long way in supporting the government's aspiration to grow cashless transactions in a secure manner."
Echoing his thoughts, Soft Space's CEO Joel Tay and Digio's Managing Director Nopphorn Danchainam said merchants will benefit as the total cost of FLite's ownership will be significantly lower, thereby making it more affordable as compared to the existing mPOS solutions in the Thai market.
FLite's deployment in the Thai market will allow merchants of all business sizes to accept card payments through its PIN-based authorisation point-of-sale (POS) terminal. This will promote contactless card acceptance to Thai merchants in a secure and affordable way, a move that will position Thailand as one of the most advanced countries in Southeast Asia that accepts contactless card payments.
According to the Bank of Thailand, the country's volume of e-payment transactions increased by 83% between 2016 and 2018, with the majority of this growth attributed to internet banking and mobile banking. As of 2018, Thais' e-payment transaction per capita rose from 63 per capita per year in 2017 to 89 per capita per year.
Nevertheless, majority of the e-payment growth is attributed to online banking and the increase of Thai QR Payments installed at over 3 million online and offline merchant points. Hence there is still room to grow credit and debit card acceptance among merchants, especially in the SME segment, with the deployment of Soft Space's FLite solution.
FLite is based on PCI's software-based PIN Entry on COTS (commercial-off-the-shelf) standard (SPoC), a security standard that allows a software-based approach for protecting PIN entry on COTS devices such as ordinary smartphones.
Commonly known as "PIN-On-Glass" authentication, FLite is highly secure because the PIN keyed into the smartphone during a POS transaction is isolated from any account identifying information, which resides in the EMV chip reader rather than on the smartphone. This prevents hackers from obtaining any data for fraudulent transaction. Moreover, the EMV Chip reader is approved as an SCRP (Secure Card Reader for PIN), which encrypts the contact or contactless data exchange during all transactions.