We are featured on the Identification & Management Magazine, in the perspective of technology vendors who are working closely with merchants and sellers to find out how they are coping with the fundamental changes in the retail ecosystem.
A couple of months back, Toh Yit Ming, head of software development for mobile technology at Soft Space, flew to Singapore to meet Kenneth Cheung, the events & media director of APSCA. During this meet, Yit Ming shed some light on Soft Space's technology, its implementations and the advantages that comes with it. We are pleased with the creative writing as it throws Soft Space in the ideal perspective.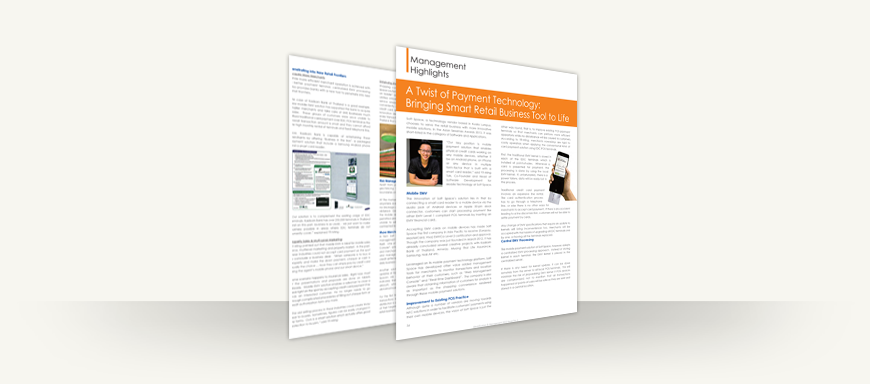 Click to read the full article (PDF)
The article is published by:
Asia Pacific Smart Card Association (APSCA), Identification & Management Magazine
APSCA is a registered non-profit organization aimed to promote applications of different smart technologies. Since established in 1997, APSCA has organized over 140 events, seminars, trainings and conferences across 12 countries in Asia focusing on the business and technology for smart cards, smart objects and smart devices. Many of these events were co-organized with government agencies, payment organizations, transport departments and mobile operators. Starting March 2013, Identification & Management quarterly magazine (www.id-mgt.com) was published to further promote applications of the latest technology for eID, border management, secure access, NFC, urban transport & mobility and smart life.
For more information about APSCA, please visit:
APSCA Website